SAFE AND RELIABLE
AIRCRAFTS
Your safety is our priority. At Treasure Air charters. we go through vigurous mantenance and repair check-points.
in order to guarantee a safe and realiable flight. Our aircraft are always maintained under industry specifications
and standards. When you travel with Treasure Air Charters, just sit back and enjoy the ride!
TAKE A LOOK AT OUR FLEET
---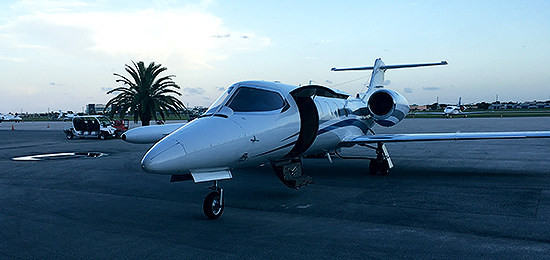 LEARJET 35A AIRCRAFT
The LearJet 35A is one of the best kept secrets in the air charter business to date. This aircraft is one of the most economical and cost effective business jets operating. With a range of 2300 nautical miles and a cruise speed of 510 mph, the Learjet 35 is perfect for small companies and business people who need to get to those meetings quickly, with the flexibility to be home in time for the kids sporting event or dinner.
This aircraft is a favorite of sports figures and celebrities who need to be at multiple scheduled events and commitments throughout various cities.
The Learjet is also an excellent platform to transport people who are far away from home and find themselves in need of getting home quickly for family or medical concerns. It provides seating for seven travelers with 40 cubic feet of luggage room (about seven standard-size suitcases) along with a mini bar.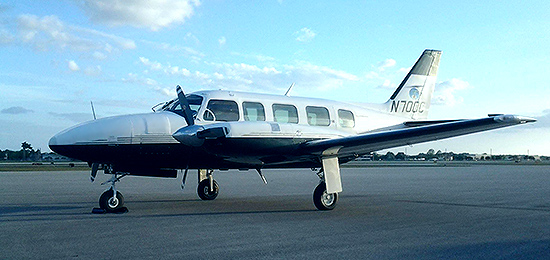 PIPER NAVAJO "CHIEFTAIN" AIRCRAFT
The Piper Navajo "Chieftain" is a twin engine turbo charged aircraft built to fly mid-range distances to favorite destinations and business locales.
With extra luggage compartments and spacious leg room, this mid-size piston aircraft is perfect for weekend getaways or your quick turnaround meetings. The Chieftain is considered best-in-class performance and cost for those who are looking to travel without the hassles of airport parking, TSA screenings and long lines at the airport. You travel on your schedule, not the whims of airline cancellations. Let us show you why this aircraft can compete with the more costly King Air and still provide the comfort and safety at a considerable savings.
One flight on the Piper Navajo Chieftain, and you will be convinced that this is the only way to go on your next family vacation to the Keys, Orlando or the Bahamas.
AIRCRAFT
SPECIFICATIONS
| MAXIMUM CAPACITY | (6) Passengers + Crew (Pilot/Co-pilot) |
| --- | --- |
| FULL LENGHT | 48 ft. 8 in. (14.83m) |
| FUEL CAPACITY | 1,110 US Gallons (4,200 l; 920 imp Gal) |
| MAX. TAKEOFF WEIGHT | 18,000 lb (8,164 kg) |
| MAXIMUM SPEED | 471 Knots (542 mph, 872 km/h) |
| RATE OF CLIMB | 4,525 ft/min (6.7 m/s) |
| POWERPLANT | 2 x Garrett TFE731-2-2B Turbofan |
| RANGE | 2,874 nmi (3,290 mi, 5,295 km) |
AIRCRAFT
SPECIFICATIONS
| MAXIMUM CAPACITY | (5-7) Passengers |
| --- | --- |
| FULL LENGHT | 32 ft 7½ in (9.94 m) |
| FUEL CAPACITY | 182 US Gallons |
| MAX. TAKEOFF WEIGHT | 6,500 lb (2,948 kg) |
| MAXIMUM SPEED | 227 knots (420 km/h, 260 mph) |
| RATE OF CLIMB | 1,445 ft/min (7.3 m/s) |
| POWERPLANT | 2 × Lycoming TIO-540-A air-cooled 6 cyl. |
| RANGE | 1,011 nmi (1,875 km, 1,165 mi) |